Bilberry and blueberry may look alike, but there are important differences you might not know.
Most of us are familiar with blueberry (a hybrid of Vaccinium spp., mostly V. corymbosum), which is widely cultivated in North America.
Bilberry (Vaccinium myrtillus L), on the other hand, is a wild species, native to forests of northern Europe. Bilberry is also know as wild blueberry in Europe. It is almost impossible to cultivate bilberry. [1]
Colour and taste
Although both bilberry and blueberry have similar outer appearance (both are blue/purple), once the inner flesh is revealed, you'll see a stark difference.
Bilberry has a much higher content of anthocyanins, hence its flesh is red, as opposed to the green flesh blueberry.
It has a stronger taste than blueberry, due to the higher anthocyanin content It's tangy, fruity and mildly sweet.
Antioxidant level
We all know that blueberry is a good source of antioxidants. Well, bilberry has 4x more antioxidant level than blueberry.
This is due to bilberry having much higher levels of the anthocyanins (cyanidin, delphinidin, and peonidin), while blueberry is only richer in one subtype of anthocyanin – malvidin.
Bilberry is the richest berry source of anthocyanin, supplying 300-700 mg per 100 g of berries
"Most attention has been focused on the antioxidant properties of anthocyanins in relation to health benefits of bilberry, the effects are likely to extend beyond simple antioxidant action to involve cell-signaling pathways, gene expression, DNA repair, and cell adhesion, as well as antineoplastic and antimicrobial effects. "
Herbal Medicine: Biomolecular and Clinical Aspects. 2nd edition, Chapter 4 Bilberry (Vaccinium myrtillus L.). 2011.
Other nutritional values
Compared to blueberries, wild bilberries are more nutrient dense, with more Vitamin C, Vitamin E, manganese than blueberries.
How can I get hold of bilberry?
In Singapore and Southeast Asia region, we do not really get supplies of fresh and even frozen bilberries. The only way to consume bilberry is by taking the extract.
Medox® contains wild Scandinavian bilberries and NZ blackcurrants in 1:1 ratio, with clinically proven health benefits. You can get it online here.
It is suitable for anyone who wants antioxidant protection for their eyes, blood circulation, and support their overall immunity.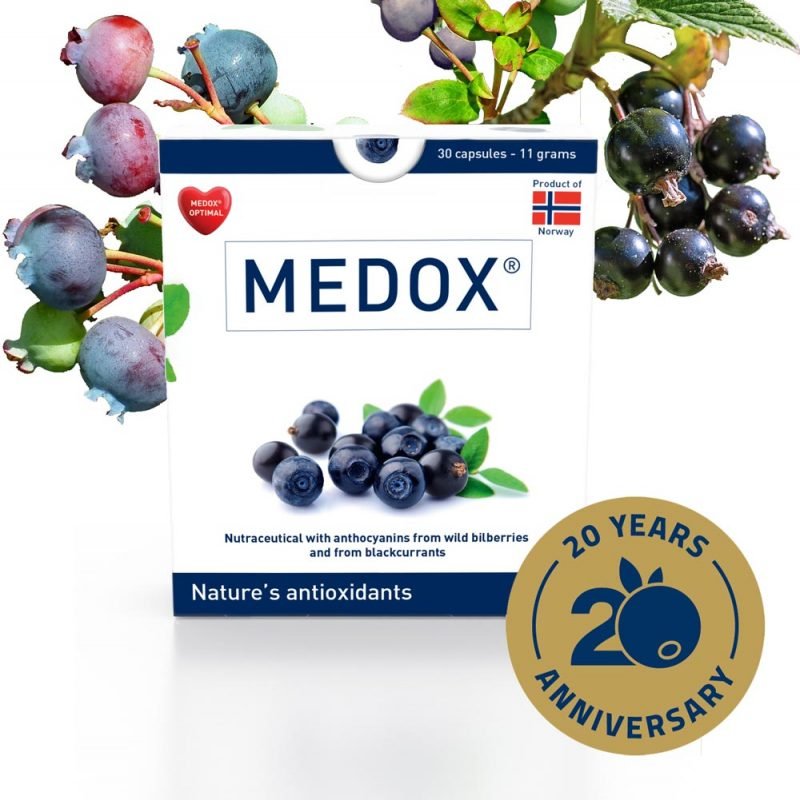 17 naturally occurring anthocyanins (antioxidants)
20 years . Thousands of satisfied customers
Award winning, clinically proven, patented extraction technology
Developed and manufactured in Norway
Vegan . Gluten Free . Dairy Free