Description
*For customers in Singapore and Southeast Asia only*
*Apologies, we are unable to ship Medox outside of Southeast Asia, purchase outside of Southeast Asia will be refunded after less transaction fee of 5%.*
immunity, boost immunity, antioxidant, anti-ageing, anti-aging
Pure and high potency anthocyanins – nature's antioxidant – from wild Scandinavian bilberries and NZ blackcurrants with clinically proven health benefits.
17 naturally occurring anthocyanins.(antioxidants)
20 years . Thousands of satisfied customers
Award winning, clinically proven, patented extraction technology
Vegan . Gluten Free . Dairy Free
Contains:
💙  210 mg wild berries extract (Scandinavian bilberries 50% and blackcurrants 50%)
💜  80 mg pure anthocyanins (17 naturally occurring subtypes)
Ingredients: Bilberry extract (Vaccinium myrtillus), Blackcurrant extract, (Ribes nigrum), corn maltodextrin, cellulose vegetable capsules, stabilizing agent (citric acid).

What are the health benefits?
Bilberry:
The antioxidant properties of 15 anthocyanins extracted from bilberries help to
protect our body's cells against oxidative stress 
protect and strengthen our blood vessels
support our blood circulation
reduce dry eyes and eye fatigue 
support the normal functioning of our eyes
Blackcurrant:
The 4 anthocyanins extracted from blackcurrants support the normal functioning of 
our immune system
our muscles.
The cardiovascular benefits of Medox shown in clinical trials are summarized here.
Medox is suitable for:
1) the whole family, from children to elders, to keep the family in good shape
2) all adults, to keep normal body functions in balance
3) active adults, antioxidant protection as they are more exposed to oxidative stress, and keep the body healthy and ready for action
Suggested use
For normal antioxidant and eye benefits: 1 – 2 capsules per day with water (not with dairy products).
For blood vessels and circulation support: 2-4 capsules per day.
Pregnant and nursing women should consult a doctor before use. 
Review by @miss_polkadot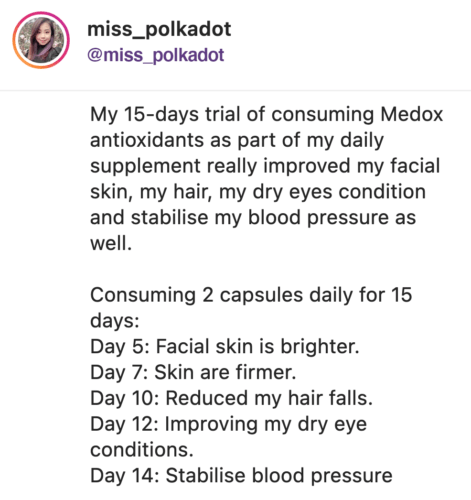 Review by @rontreechan

Review by @bakencookwith3
Award winning
Medox® is manufactured in Norway through a high-tech patented nitrogen extraction process that locks out oxygen to preserve and concentrate 17 naturally occurring anthocyanins.
The manufacturer MedPalett AS has received the prestigious Norrøna Award in 2015 for the pioneering work in developing this unique natural supplement and their contribution in improving public health.
Backed by research
Unlike other supplements, Medox® has been clinically proven in scientific studies in Norway, the EU, Australia, China and USA. Studies on Medox® have been published in highly respected, internationally recognized scientific and medical journals:
Blood circulation
Anthocyanin supplementation doses of 80–320 mg/day enhances cholesterol efflux capacity (CEC) in a dose-dependant manner and improve serum HDL-C levels. "Eur J Clin Nutr", 2020.
Anthocyanins in berries exhibited anti-atherogenicity and antiplatelet activities in a metabolic syndrome population. "Nutr Research" 2020.
The effect of anthocyanin supplementation in modulating platelet function in sedentary population: a randomised, double-blind, placebo-controlled, cross-over trial. "British Journal of Nutrition", 2017
Anthocyanin supplementation in alleviating thrombogenesis in overweight and obese population: A randomized, double-blind, placebo-controlled study. "Journal of Functional Foods", 2017
Anthocyanins inhibit nuclear factor-kappaB activation in monocytes and reduce plasma concentrations of pro-inflammatory mediators in healthy adults. "The Journal of Nutrition", 2007
Effects of anthocyanins on cardiovascular risk factors and inflammation in pre-hypertensive men: a double-blind randomized placebo-controlled crossover study. "The Journal of Human Hypertension", 2013
Anthocyanins protect human endothelial cells from mild hyperoxia damage through modulation of Nrf2 pathway. "Genes and Nutrition", 2012
Lipids
Others
Anthocyanins attenuate lipid peroxidation and mitochondrial dysfunction generated by APPswe mutation or by chemical inhibition of mitochondrial complex I. "Karolinska Institut", 2017 (PDF, 660KB)
Berry anthocyanins reduce proliferation of human colorectal carcinoma cells by inducing caspase-3 activation and p21 upregulation. "Molecular Medicine Report", 2016
A CONSORT-compliant, randomized, double-blind, placebo-controlled pilot trial of purified anthocyanin in patients with nonalcoholic fatty liver disease. "Medicine", 2015
Studies on bilberry alone on eye health
Bilberry extract supplementation for preventing eye fatigue in video display terminal workers. J Nutr Health Aging. 2015.
The effect of a natural, standardized bilberry extract in dry eye: a randomized, double blinded, placebo-controlled trial. Eur Rev Med Pharmacol Sci. 2017.
Effect of a bilberry extract-containing diet on the improvement of eye fatigue-related symptoms (II) – A randomized, double-blind, placebo-controlled, parallel-group comparison study. Japanese Pharmacology and Therapeutics 2017.
Expiry date: current batch Sep 2025
Storage
In a cool, dry place out of reach of children.
This product is a food supplement and therefore should not be used as a substitute for prescribed medication, a varied diet, and a healthy lifestyle.