If you fancy a light and fruity festive dessert without the sugar rush and with no alcohol, you are at the right recipe for poached pears!
Poaching pears in purple corn juice (using our simplified version of Peru's healthy Chicha Morada) gives a similar lush purplish red hues to the pears as mulled wine, minus the alcohol, while adding loads of antioxidants, bioflavonoids, and is low in glycemic index.
Recipe
Makes 3 small poached pears
3 cups of filtered water
3 small pears or 2 large pears (see pic)
2 tablespoon full of Antioxidant Peruvian Purple Corn extract
1 cinnamon stick or 1 tablespoon of cinnamon powder
2 tablespoons of raw honey (depending on how you like the sweetness level)
Juice of 1 lemon
Optional: zest of 1 lemon or orange
Step 1.
To a medium pot, add water, cinnamon, purple corn, honey and pears.
Cover with lid and simmer (not boil) for 20 minutes, turning the pears if not totally submerged so that all sides are poached evenly.
Simmer under the lid for another 20 minutes after turning.
Step 2.
Add lemon juice, stir to combine, then turn off heat.
Let it sit for another 10 minutes until cool.
Step 3.
Carefully cut the pears into two halves.
Plate in your own artistic style.
Serve with ice cream or greek yoghurt and several sprigs of mint.
Optional: grate some lemon or orange zest for extra festive touch!
---
The Star Ingredient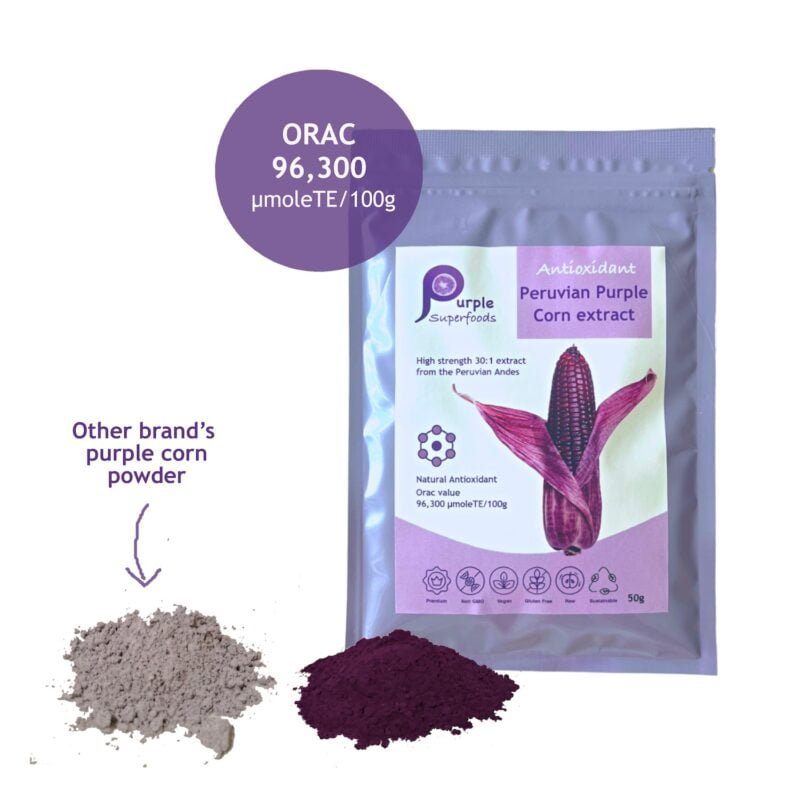 Antioxidant Peruvian Purple Corn 30:1 extract powder
An all-rounder natural antioxidant that keeps your body's free radicals in check, protects you from lifestyle diseases, so that you don't need to worry about spending more on other antioxidants
Natural high strength extract 30:1 (30kg of purple corn into 1 kg of extract powder)
A spectacular ORAC value of 96,300 µmoleTE/100g!
Helps to regulate blood pressure, cholesterol and more