Chica Morada is Peru's iconic refreshing purple corn drink, made from Peruvian purple corn grown in the Andes region.
Why is this superfood drink good for you?
Originating from the heirloom Kculli variety of Zea mays, our Peruvian purple corn is one of the richest sources of anthocyanins found in nature.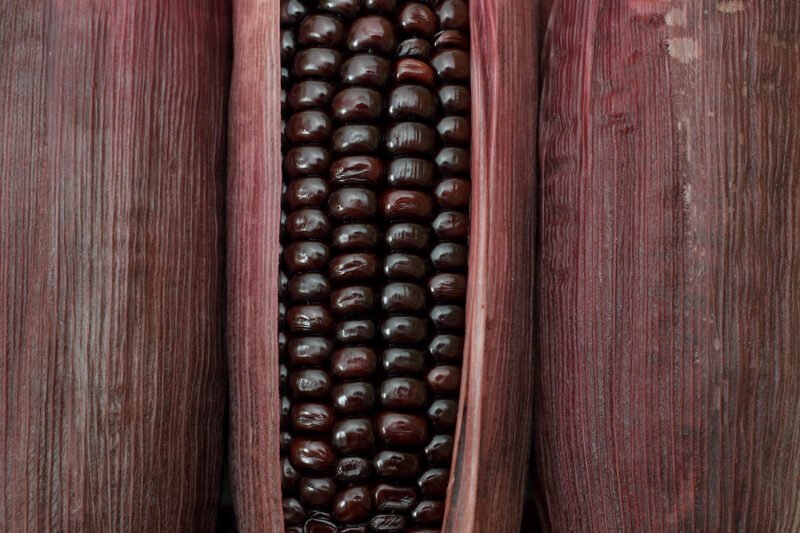 The health-promoting anthocyanins (cyanidin-3-glucoside or C3G) contained in purple corn are powerful antioxidants with anti-inflammatory properties. That means, Peruvian purple corn:
improves our cell irrigation, calms and detoxifies, esp in this hot weather
protects our body from disease-causing free radicals generated from stress, environmental, physical or mental stress
encourages our connective tissue regeneration
helps to regulate our blood pressure
helps to regulate our cholesterol level (the antioxidant properties of C3G protects LDL-C from becoming oxidized, a key step in developing arteriosclerosis)
---
This is our lazy version of the traditional Peruvian Spiced Purple Corn drink (Chicha Morada) with just 4 ingredients, we call it lazy chicha 🙂
Makes approx. 5 cups
Step 1.
To a large pot, add 1 litre water and 1 cinnamon stick. Simmer for 30 minutes until the cinnamon stick opens up.
Other than adding an aromatic scent to the drink, cinnamon is also rich in antioxidant and is anti-inflammatory.
Step 2.
Add in 1 to 2 tablespoon of raw honey, depending on the level of sweetness you prefer. Stir till all honey are melted and mixed in.
Step 3.
Let it cool down to room temperature. Add 3 tablespoons of Antioxidant Peruvian Purple Corn extract and juice of 2 lemons (1 lemon if you prefer less sour). You can also use 4 limes instead of 2 lemons. Mix well.
Step 4.
Store in a glass jar and refrigerate for up to 1 week. We like to drink it straight out of the fridge, chilled.
To serve, stir the mixture well (there may be sedimentation of purple corn extract at the bottom of the jar as it is rich in fibre).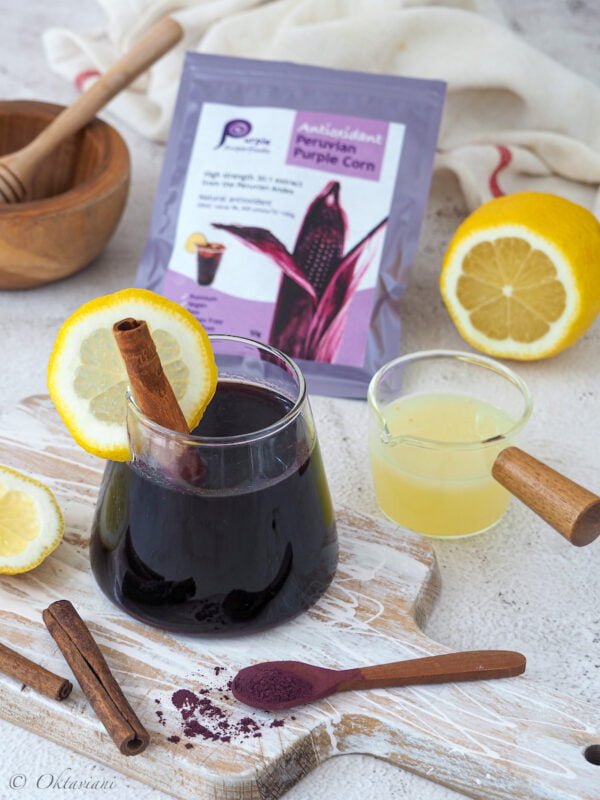 ---
The Star Ingredient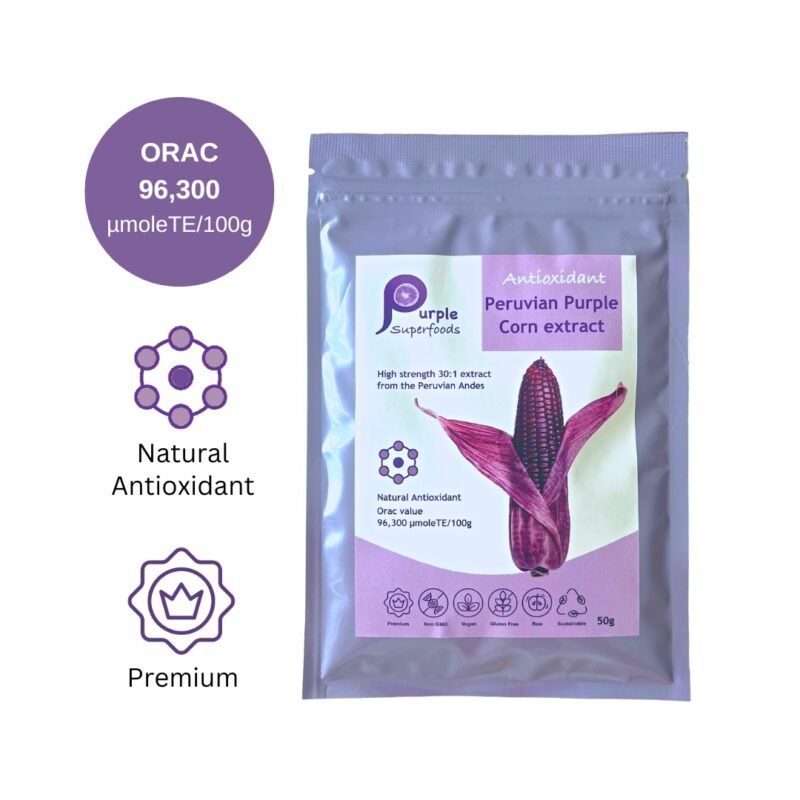 Antioxidant Peruvian Purple Corn 30:1 extract powder
An all-rounder natural antioxidant that keeps your body's free radicals in check, protects you from lifestyle diseases, so that you don't need to worry about spending more on other antioxidants
Natural high strength extract 30:1 (30kg of purple corn into 1 kg of extract powder)
A spectacular ORAC value of 96,300 µmoleTE/100g!
Helps to regulate blood pressure, cholesterol and more