Colour lover @bakencookwith3 created this ingenious graduation of ombre colored buns using our Antioxidant Peruvian Purple Corn 30:1 extract. We love how pretty and inviting these buns look!
Ingredients:
300 g bread flour
3g instant yeast
220 g Hokkaido milk (cold) 20g brown 20g brown sugar
25g unsalted butter
5g pink Himalayan salt
1/4 tsp, 1/2 tsp, 1 tsp of Antioxidant Peruvian Purple Corn 30:1 extract, respectively
Step 1 – Prepare the dough
Combine bread flour, yeast, milk, and sugar in a mixing bowl and mix till all incorporated. Knead the dough until smooth.
Step 2 – 2nd kneading
Add butter and salt. Knead the dough again until smooth and elastic.
Step 3 – Proofing
Cover the boel and let the dough rest for 1 hour.
Step 4 – Adding colours
Transfer the dough to a floured surface. Divide the dough into 3 equal portions. Mix the 1st portion with 1/4 tsp of Antioxidant Peruvian Purple Corn 30:1 extract, 2nd portion with 1/2 tsp and 3rd portion with 1 tsp.
Step 5 – Rest
Knead the dough to combine the colors. We also advise to Divide each portion into 4 equal balls. You should have 2g of extra dough for making some optional decoration. Cover with a cloth and let rest for 30 minutes.
Step 6 – Baking
Bake in an preheated over at 175°C for 7 minutes. Take a piece of aluminium foil, cover the top loosely, then continue baking it for another 13 minutes. Total baking time = 20 minutes
Step 7 – Cooling
Transfer the buns to a wire rack to cool down.
The star ingredient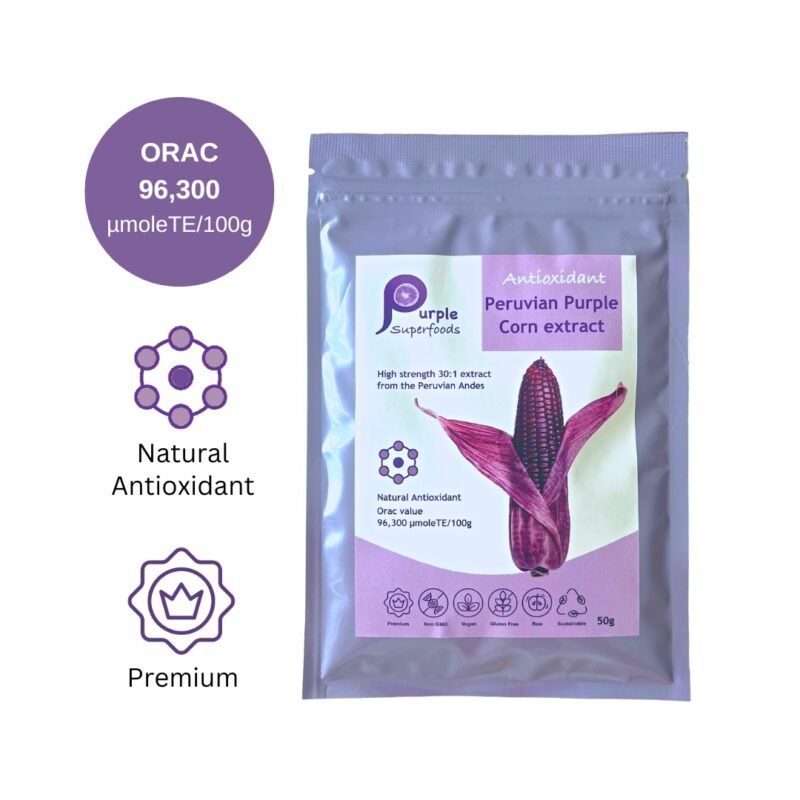 Antioxidant Peruvian Purple Corn 30:1 extract powder
Premium high strength extract 30:1 (30kg of purple corn into 1 kg of extract powder)
A spectacular ORAC value of 96,300 µmoleTE/100g -> 20x higher than fresh blueberries!
High level of bioflavonoids and anthocyanins (lab verified)
Good source of fibre, minerals and trace elements