Medox® is clinically proven through scientific studies at universities and university hospitals internationally since the product came on the market in 2000.
This makes Medox® a truly unique product that differs totally from dietary supplements on the market. Such scientific evidence does not exist on dietary supplements in general.
It is a natural food supplement contains large amounts of anthocyanins from bilberries and blackcurrants that has been studied in multiple, independent, randomized double-blind placebo-controlled trials related to cardiovascular health.
Anthocyanins are plant-derived compounds (phytonutrient) that impart colours of purple, blue and red in fruits, grains and vegetables. It is a powerful antioxidant with diverse health promoting actions. Yet anthocyanins are easily degraded during manufacturing.
Sourced from wild Scandinavian bilberries and blackcurrants, Medox® is produced through a patented nitrogen extraction process that locks out oxygen to preserve and concentrate 17 naturally occurring anthocyanins.
100 % natural product origin
Medox® contains consistently high-quality wild bilberries and blackcurrants of Norwegian, Swedish and New Zealand origin. There is a big difference between bilberries and blueberries, and you can read about it here.
Scientifically proven cardiovascular health benefits
The active ingredients of Medox® have been subject to multiple, independent, human-randomized double-blind placebo-controlled trials at universities and university hospitals in subjects at risk of or diagnosed with cardiovascular problems.
The results of these studies have been published in well regarded peer-reviewed international journals, including American Journal of Clinical Nutrition and European Journal of Clinical Nutrition (see the reference list at the end of this blog).
Key clinical studies conducted on Medox®
Atherosclerosis
Longer supplementation (4-12 weeks) increases HDL cholesterol, reduces LDL cholesterol in dyslipidemic subjects. (1,2)
Anthocyanin supplementation doses of 80–320 mg/day enhances cholesterol efflux capacity (CEC) in a dose-dependant manner and improve serum HDL-C levels, see chart below. (3)
Anthocyanin supplementation significantly decreased serum LDL cholesterol (by 7.9%; P < 0.05), triglycerides (by 23.0%; P < 0.01), increased HDL cholesterol (by 19.4%; P < 0.05) compared with placebo after the 24-week intervention in diabetes patients. (4)
Longer-term supplementation (24 weeks) decreases platelet granule secretion, which lowers the chance of thrombus formation. (5, 6)
Anthocyanin intervention for 12 weeks were dose-dependently associated with improvements in plasma lipids and cholesterol efflux capacity in the dyslipidemia. (14)
Reproduced from Xu et al., Eur J Clin Nutr, https://doi.org/10.1038/s41430-020-0609-4, 2020.
Cholesterol efflux from macrophages is the initial and rate-limiting step of reverse cholesterol transport. Cholesterol efflux capacity (CEC) is a significant indicator in the assessment of HDL-C functions. Several studies have shown a negative correlation between HDL-induced CEC and both the incidence and prevalence of cardiovascular disease (CVD). By improving HDL function, especially in improving CEC, is expected to effectively reduce CVD risk.
---
Glycemic control and metabolic function
Anthocyanins favorably improved glycemic control and lipid profile in Chinese adults with prediabetes or early untreated diabetes. (7)
Anthocyanins in berries exhibited anti-atherogenicity and antiplatelet activities in a metabolic syndrome population. (8)
Four weeks anthocyanin consumption significantly decreased fasting blood glucose (15.7% vs 3.2%), TG (18.2% vs -1.39%), cholesterol (33.5% vs 1.56%) and LDL (28.4% vs -15.6%) in subjects with metabolic syndrome compared to Control group (P-value < 0.05, 95% CI). (15)
Anthocyanins supplementation for 12 weeks decreased fasting glucose (−0.4 mmol/L [−0.71, -0.1], p=0.01) and postload C-peptide in patients with fasting hyperglycemia. (16)
---
Endothelial function in blood vessels
Longer term supplementation (6-24 weeks) increases flow-mediated dilation in people with habitual low fruit and vegetable intake and hypercholesterolemic subjects. (9,10)
Increases blood flow due to NO-cGMP pathway, and reduces adhesion factors. (10,11)
---
Inflammation
Epidemiological evidence shows that high anthocyanin intake is inversely associated with significantly lower inflammatory score. (12)
Longer-term supplementation (min. 4 weeks) shows reduction in transcription factor NF-kB which lowers pro-inflammatory cytokines. (2,13)
---
Want to try Medox®?
After 20 years in Norway, Medox® is now available in Singapore, distributed exclusively by Purple Superfoods.
Order here: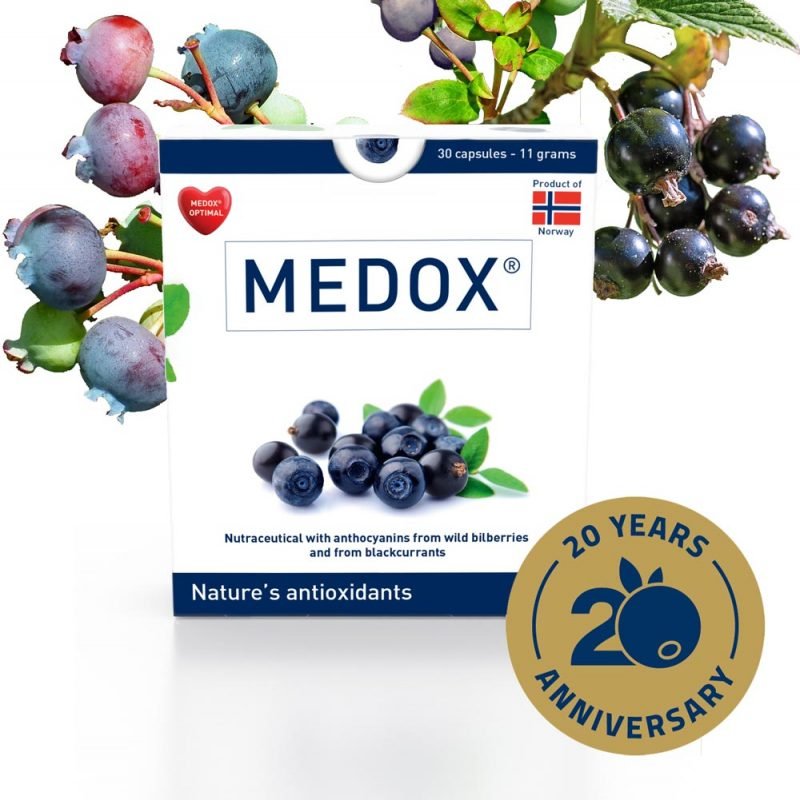 Or order from Lazada or Shopee, please click on the logo to get to the product page.

References:
Qin et al., Am J Clin Nutr 90(3):485-492, 2009.
Karlsen et al., J Nutr 137: 1951-1954, 2007.
Xu et al., Eur J Clin Nutr, https://doi.org/10.1038/s41430-020-0609-4, 2020.
Li et al., J Nutr 145:742–8, 2015.
Song et al., Thromb Haemost 112(5):981-991, 2014.
Yang et al., Plos One 7(5), 2012.
Zhang et al., Nutrients 9, 1104; doi:10.3390/nu9101104, 2017.
Aboonabi et al., Nutr Research 76: 82-93, https://doi.org/10.1016/j.nutres.2020.02.011 2020.
Khan et al., Free Radic Biol Med 72: 232-237, 2014.
Zhu et al., Clin Chem 57(11):1524-1533, 2011.
Zhu et al., Nutr Metab Cardiovasc Dis 23(9): 843-849, 2013.
Cassidy et al., Am J Clin Nutr 102(1): 172-181, 2015.
Karlsen et al., Eur J Nutr 49: 345-355, 2010.
Zhao et al. Clin Nutr 2020 Oct 15;S0261-5614(20)30542-2.
Aboonabi et al. Free Radic Biol Med 2020 Apr;150:30-39.
Yang et al. Diabetes Metab Syndr Obes 2020 Sep 28;13:3395-3404.
This product is a food supplement and therefore should not be used as a substitute for prescribed medication, a varied diet, and a healthy lifestyle.