This gorgeously purple Purple Corn Pugliese loaf is baked by @bakencookwith3 using our Antioxidant Peruvian Purple Corn 30:1 extract.
Biga:
310 g bread flour
1/2 tsp instant yeast
220 g room temp water
Bread Dough:
All of the Biga
210 g bread flour + more for dusting
188 g superfine wholemeal flour
20 g Antioxidant Peruvian Purple Corn 30:1 extract
5 g instant yeast
10 g pink Himalayan salt
85 g mashed potatoes
380 g lukewarm water

Step 1 – Prepare the biga
Mix all ingredients using a spatula, then transfer it to a bowl greased with some olive oil. Cover the bowl and let it rest at kitchen counter for about 6 hours.
Step 2 – Make the bread dough
In a mixing bowl, place all the ingredients and mix it in a low speed until a sticky dough is formed. Continue mixing in medium speed for about 4 minutes. The dough will be wet and sticky, resist the temptation to add extra flour
Step 3 – Proofing
Grease a big bowl (approx 3x the size of the dough) and transfer the sticky dough there. Cover and let the dough rise for 1 hour.
Step 4 – Folding
Transfer the dough to a floured surface. Sprinkle some flour on the dough. Fold the dough from the sides like an envelope. Dust again with some flour and repeat folding both sides.
Step 5 – Resting
Cover the dough with a cloth, let it rest for 30 minutes.
Step 6 – Portioning
Divide the dough to 3 big portions or 7 small portions. Dust each portion with some flour. Take 1 portion, fold all sides to the middle to shape into a ball. Repeat to all portions.
Step 7 – Resting
Cover again with a cloth, let them rest for 20 minutes.
Step 8 – Prepare for baking
Preheat the over to 200°C, pour some water to the bottom tray. Using a scraper, transfer each dough to a baking pan. With a sharp knife, mark the top of each dough with a # sign. Brush the dough with some water.
Step 9 – Baking
Bake the dough at 200°C for 10 minutes, removing the water tray after 10 minutes, and continue baking for another 15 minutes.
Step 10 – Cooling and slicing
Transfer the bread to a cooling rack, allow to cool before slicing them.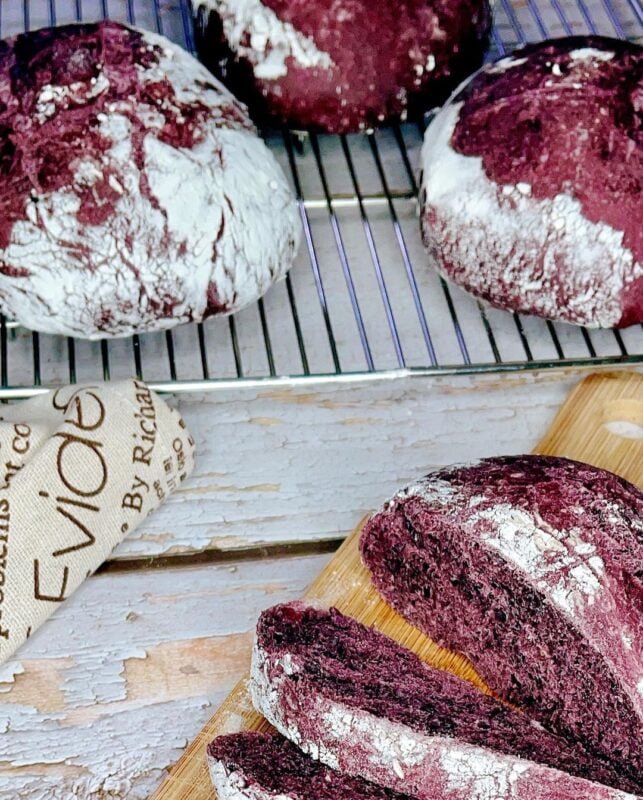 The star ingredient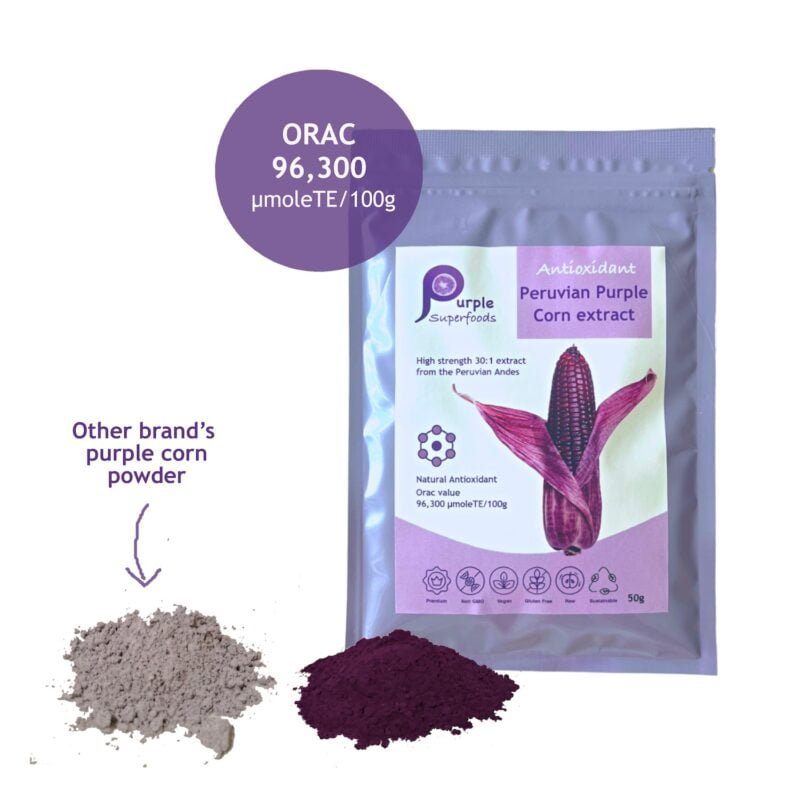 Antioxidant Peruvian Purple Corn 30:1 extract powder
Premium high strength extract 30:1 (30kg of purple corn into 1 kg of extract powder)
A spectacular ORAC value of 96,300 µmoleTE/100g -> 20x higher than fresh blueberries!
High level of bioflavonoids and anthocyanins (lab verified)
Good source of fibre, minerals and trace elements