One of @miss_polkadot's favourite traditional kuih with an antioxidant and low GI twist!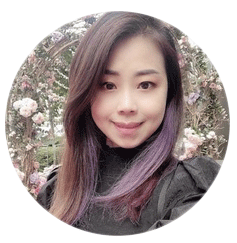 Ingredients:
200 grams Japanese sweet potato
170 grams glutinous rice flour
1 teaspoon Antioxidant Peruvian Purple Corn 30:1 extract dissolved in a little water
Water (add a little at a time until dough are pliable to shape).
Fillings:
Palm sugar (coconut sugar), shredded thinly.

For coating:
120 gram shredded coconut
1/4 teaspoon salt
---

Step 1
Steam sweet potatoes until soft and mashed to a fine texture.

Step 2
Steam shredded coconut with 1/4 tsp salt for 10 minutes. set aside.
Step 3
In a large bowl, mix mashed sweet potatoes with glutinous rice flour & Peruvian purple corn mixture. Add water a little at a time to form a dough.
Step 4
Boil water in a medium sauce pan until boiling.
Step 5
Take a pinch of dough and form a well and fill in with shredded palm sugar, cover and form a ball and circle with both palm.
Step 6
Drop it into the boiling water. Repeat until dough finish.
Step 7
Once the ondeh ondeh floats in a boiling water, remove and drop it on the plate of shredded coconut. Coat it well and place it on a plate.
Step 8
Let it cool down, Serve with more shredded coconut. Enjoy!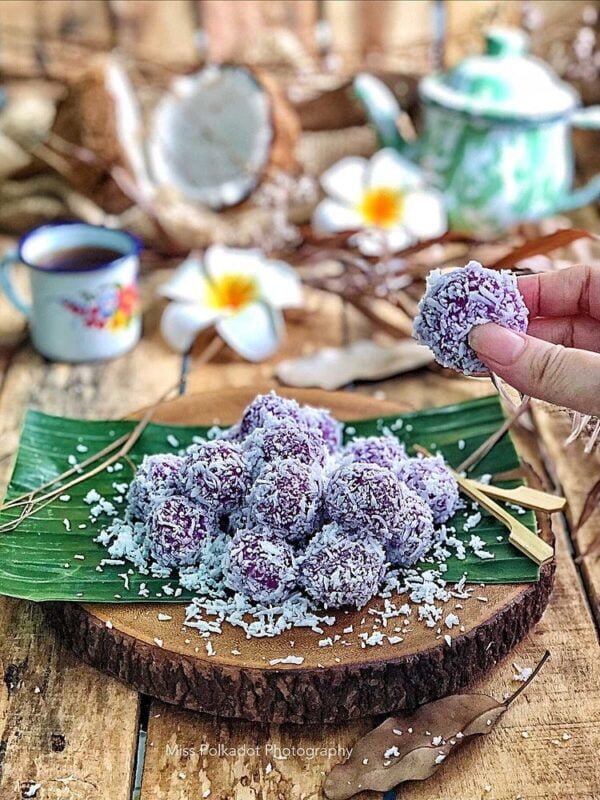 The star ingredient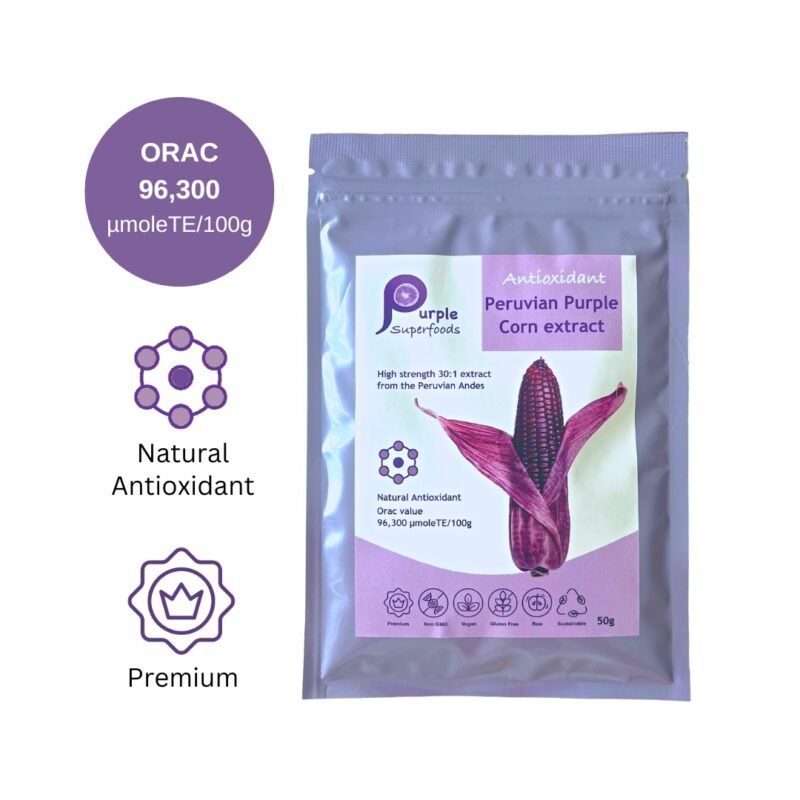 Antioxidant Peruvian Purple Corn 30:1 extract powder
Premium high strength extract 30:1 (30kg of purple corn into 1 kg of extract powder)
A spectacular ORAC value of 96,300 µmoleTE/100g -> 20x higher than fresh blueberries!
High level of bioflavonoids and anthocyanins (lab verified)
Did you know that anthocyanins (contained in purple corn) slow the digestion rate by 20%, that means reducing the post prandial blood glucose spike, leading to a lower glycemic index?