Power up with this superfood loaded purple corn crusted pan seared salmon served with saffron sauce made from our Organic Persian Saffron, kale, cherry tomatoes, strawberries and endive.
Purple corn extract crust mix :
Others:
1 piece of salmon (300-450g)
2 teaspoons Dijon mustard
1 lemon or lime
Step 1.
In a mid size bowl or plate, mix the Purple corn extract, panko, parmesan cheese, small handful of herbs parsley, basil (optional), salt and pepper.
Finally, drizzle the olive oil to bind everything together.
Step 2.
Pulse several times in a food blender until evenly mixed and you see a nice purple mixture. Set aside
Step 3.
Heat up your pan or skillet to medium heat. Drizzle a little olive oil.
Pan sear the salmon for 1 1/2 mins skin down first if any.
Followed by 1 min on the other 3 sides.
Remove from pan.
Step 4.
Brush lightly with dijon mustard on each side immediately. Set seared salmon to rest for 5-10mins.
Step 5.
Coat the salmon with the purple corn crust mix evenly.
Step 6.
Preheat oven at 200 degree Celsius, pop in for 5-7 mins. Or watch till it turns crisp to your desired liking.
Remove and let it rest for minimum 5-10mins.
Step 7.
Zest some lemon or lime, plate and serve.
---
The Star Ingredient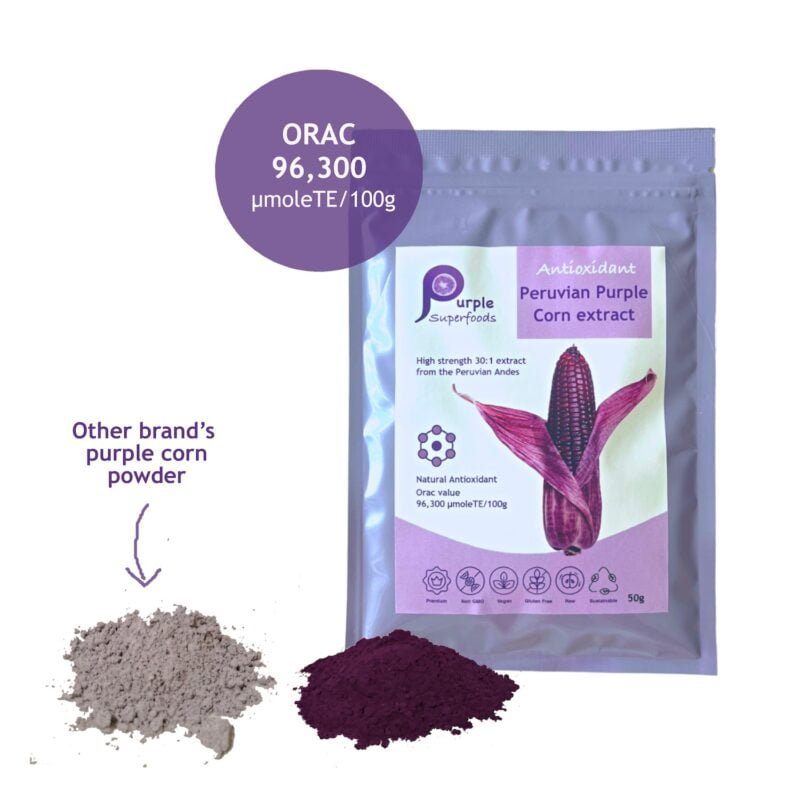 Antioxidant Peruvian Purple Corn 30:1 extract powder
An all-rounder natural antioxidant that keeps your body's free radicals in check, protects you from lifestyle diseases, so that you don't need to worry about spending more on other antioxidants
Natural high strength extract 30:1 (30kg of purple corn into 1 kg of extract powder)
A spectacular ORAC value of 96,300 µmoleTE/100g!
Helps to regulate blood pressure, cholesterol and more