Description
Imported from Erbology London
Certified organic by Soil Association UK and EU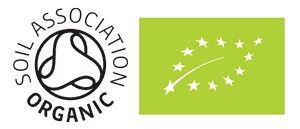 Good source of thymoquinone, thymohydroquinone and thymol
Cold-pressed from black cumin seeds
Recyclable amber glass bottle
Also known as black seed, black cumin, black caraway seed, shonaiz, kalajira, kalonji, Roman coriander, black onion, Habbatul Barakh, melanthion, gith, Seed of Blessing.
Ingredient: 100% organic cold-pressed oil from black cumin seeds (Nigella sativa (L.).
Nutrition (per 100g): Energy 3700kJ / 900kcal •  Fat 100g (monounsaturates 26g, polyunsaturates 58g, saturates 16g) • Cholesterol 0g • Sodium 0g
Why you'll love our black cumin seed oil:
Black cumin seed oil has been particularly studied for its support of the immune and nervous systems. One such study tested how effective black seed oil, as well as a number of antibiotics, is on the superbugs. The study found that most bugs were indeed resistant to antibiotics, but that black cumin oil successfully stopped the growth of 97 out of 144.
Black seed oil may be effective in this way due to three key substances: thymoquinone, thymohydroquinone and thymol. Each of them plays an important role, but when combined, they are phenomenal!
Recommended usage:
Black cumin oil has a strong, piquant flavour that will awaken all your senses and linger in the mouth.
Take one to three tsp per day. Black seed oil is ideal for salad dressing, in soups or pasta dishes. You can also dilute a small amount in a carrier oil and apply to skin and hair. Before using topically, we recommend a patch test.
Store in a cool, dark place. Not suitable for heating up.
Buddha bowl with black seed oil
To make the dressing, combine 4 tbps apple cider vinegar with 4 tbps agave nectar and ½ tsp sea salt. Set aside.Divide 1 cup rocket salad in 2 medium bowls. Arrange each bowl with 1/2 cup carrot stripes, 1/4 cup shredded red cabbage, 2-3 raw Brussels sprouts (cut in quarters) and 3 tbsp cooked chickpeas.
Put 1-2 tbsp kimchi in the middle and drizzle with Erbology Organic Black Seed Oil. Add the dressing and serve. Enjoy!