Description
*Current batch best before 30 Nov 2023.
Imported from Peru through a social enterprise that practices fair trade and provides sustainable source of income to the underprivileged people in the Peruvian Andes.
Ingredient: 100% premium raw purple corn extract 30:1 (Zea mays L., originating from the heirloom Kculli variety of Zea mays, cultivated in Peru for thousands of years, it is one of the richest sources of anthocyanins found in nature)
100% Raw . Vegan . Gluten Free . GMO Free . Pesticides Free . Sustainable
How is our purple corn extract different?
An all-rounder natural antioxidant that keeps your body's free radicals in check, protects you from lifestyle diseases
Natural high strength extract 30: 1 (30kg of purple corn into 1 kg of extract powder)
A spectacular ORAC value of 96,300 µmoleTE/100g, 20x more than fresh blueberry (4,669 µmoleTE/100g)!
Manufactured with a unique process which assures the highest content of anthocyanins. The deep purple colour of the extract is a sign of quality.
Contains a high level of bioflavonoids and anthocyanins (lab verified)
What are the benefits of taking purple corn extract?
Protects blood vessels from oxidative damage
Protects LDL-C from becoming oxidized, a key step in developing arteriosclerosis
Promotes blood flow circulation and microcirculation
Is anti-inflammatory

Slows digestion rate by 20%, reducing the post prandial blood glucose spike

Promotes collagen formation, improves cell irrigation, calms and detoxifies
Scientific evidence:
More than 20 bioactive phenolic compounds, including phenolic acids, anthocyanins, and other flavonoids, have been reported to be found in purple corn.
"Purple corn phenolic compounds have been shown in numerous studies to have potent antioxidant, anti-inflammatory, antimutagenic, anticarcinogenic, and anti-angiogenesis properties. They were also found to ameliorate lifestyle diseases, such as obesity, diabetes, hyperglycemia, hypertension, and cardiovascular diseases, based on their strong antioxidant power involving biochemical regulation amelioration."
– a Review by Fei Lao, Gregory T. Sigurdson, and M. Monica Giusti published in a high impact factor journal Comprehensive Reviews in Food Science and Food Safety, 24 January 2017, DOI: 10.1111/1541-4337.12249.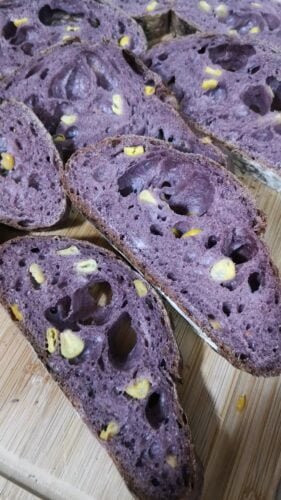 Based on the comprehensive review of current scientific evidence, purple corn provides health benefits for:
Heart health
Skin health
Liver health
Colon health
Prostate health
Kidney health
Blood sugar levels
Brain health
Vision health
Anti-obesity/weight management
Additionally, purple corn delivers 15-20% more of the 8 essential amino acids as those found in yellow corn.
"My father in-law who has diabetes took this Antioxidant Peruvian Purple Corn extract and within 1 month, his blood sugar level dropped from 14 mmol/L to the range of 7 mmol/L, we're very happy with the result." ~ Val Hong, Singapore, Aug 2020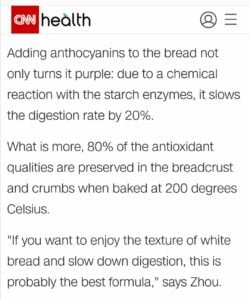 Did you know that 80% of antioxidant properties of anthocyanins (contained in purple corn, black rice) are retained in the bread crumbs and crust even after baking at 200°C?
This is what Professor Zhou Weibiao, a food scientist at the National University of Singapore, discovered after adding anthocyanins to white bread.
Other than the antioxidant benefits, Professor Zhou also found that anthocyanins slow the digestion rate by 20%, that means reducing the post prandial blood glucose spike, leading to a lower glycemic index. 
Read about his research here and CNN news here.
Interesting facts:
When grown outside of the high Andes, purple corn may not retain the same level of anthocyanins and purple colour. Some scientists say the harsh environment of the Peruvian Andes, which rises 10,000 to 15,000 above sea level, forced this corn to fight for survival and increase its immunity capacity through evolution. This in turn led to the production of massive amounts of anthocyanins – the phytonutrients responsible for its deep purple colour.
Recommended use: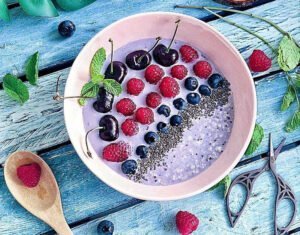 Add 1 teaspoon (about 1.5g) to a cup of water, juice, smoothies, protein shakes, or overnight oats.

For 300g sourdough or white bread loaf, add 1 tablespoon of the extract during bulk fermentation.
Purple corn extract powder has a neutral taste, and does't have the 'oily taste' of açaí berry. We like adding the juice of half a lemon or one lime with the purple corn extract and drink it first thing in the morning – check out this lazy Chicha recipe.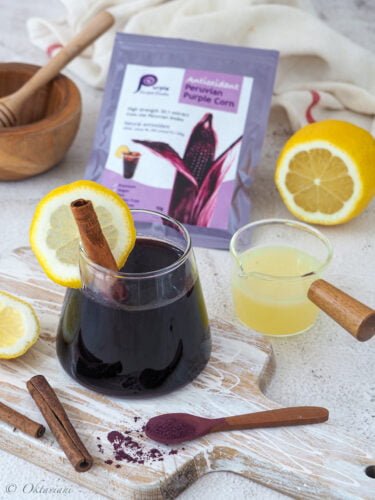 Click here for more recipe ideas.
Please note that although the extract is water soluble, purple corn is a good source of fibre so some non-soluble fibre will remain in your drink, much like drinking fruit juice with its pulp.