Anthocyanins
One of nature's most powerful antioxidants
Anthocyanins are natural plant pigments that impart the colour purple, blue and red in fruits, grains and vegetables. It is a type of phytonutrient with powerful antioxidant properties.
As antioxidant, anthocyanins help our body get rid of the free radicals that cause oxidative damage.
The NUS press release in Feb 2016 stated that:
"Scientific studies have shown that anthocyanins are rich in antioxidant properties and may help prevent cardiovascular and neurological diseases, cancer, and inflammation."  
"Anthocyanins are also known to play a role in controlling obesity and diabetes as they can inhibit digestive enzymes and hence reducing blood glucose levels."
The darker the purple, the higher the level of Anthocyanins.
Unlike vitamin C, the antioxidant properties of Anthocyanins are well retainedat temperatures up to 165-200°C.  [Food Chem 2014, CNN 2016]
Research on Anthocyanins
Our top picks
Peruvian Purple Corn (Zea mays L.)
Purple corn (Zea mays L) is native to the Andes region in Peru.
The Peruvian purple corn has the darkest purple shades in the plant kingdom, thanks to the abundant anthocyanins content.
Other varieties of purple corn grown elsewhere in the world may not retain the same level of anthocyanins and dark purple colour as the Peruvian purple corn.
Some scientists say the harsh environment of the Peruvian Andes forced this corn to fight for survival and increase its immunity capacity, leading to the production of massive amounts of anthocyanins.
There have been numerous studies done on Peruvian purple corn. This recently published scientific review will give a good overview of these studies and the health benefits of purple corn.
More than 20 bioactive phenolic compounds, including phenolic acids, anthocyanins, and other flavonoids, have been reported to be found in purple corn.
"Purple corn is reported to have potent antioxidant, anti-inflammatory, anti-mutagenic, anti-carcinogenic, and anti-angiogenesis properties, which can help to ameliorate lifestyle diseases such as obesity, diabetes, hyperglycemia, hypertension, and cardiovascular diseases."
– a Review by Fei Lao, Gregory T. Sigurdson, and M. Monica Giusti published in a high impact factor journal Comprehensive Reviews in Food Science and Food Safety, .
Whether you are looking to stay healthy in stressful environments, or have health concerns on your blood pressure or cholesterol, you can enjoy the health benefits of purple corn from our High Strength Antioxidant Peruvian Purple Corn extract
with a spectacular ORAC value of 96,300 µmoleTE/100g

20x more than fresh blueberry (4,669 µmoleTE/100g)!
Purple Sweet Potato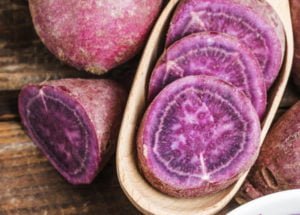 Professor Craig Wilcox who studied the diet of Okinawa centennials believes a key factor in their vigorous health can be attributed to the anthocyanins in the purple sweet potato.
His scientific review paper on "The Okinawan Diet" was published in Journal of the American College of Nutrition.
Incorporate our Purple Sweet Potato powder into your daily bakes, baby puree, or use as soup thickener. 
Black Rice
By adding the anthocyanin-rich black rice extract into bread flour, the National University of Singapore (NUS) food scientists created healthier, diabetic-friendly purple bread [Link to press release].
"Rich in cancer-fighting antioxidants, digested 20% slower than regular white bread," this purple bread has lower glycemic index than normal white bread, reported CNN.   [Link to news]
Now you can also make diabetic-friendly bread, nutritious baby puree, and more using our Heirloom Black Rice flour!