Description
Hand harvested from Iceland • Wild • Air dried • No colouring • No additives • Plant-based • Vegan • Non-GMO
Ingredient: 100% dried wild sea truffle (red seaweed, Polysiphonia lanosa).
Polysiphonia lanosa (also known as Vertebrata lanosa) is a species of red algae seaweed found in the North Atlantic coast from Iceland to Europe. It usually grows on the larger brown seaweed and rarely on rocks. It is reddish brown in colour when it's fresh. After drying, sea truffle has a brownish black colour.
Premium quality from the

same

supplier of Icelandic seaweed to prestigious restaurants including Noma in Copenhagen, Agern in New York and Texture in London
Net weight 10g or 50g (choose option)
Best before 8 Apr 2023.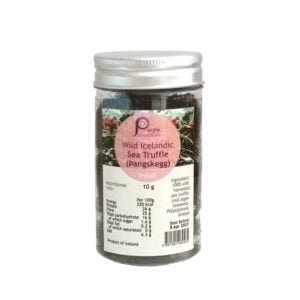 Sea truffle is a newly-discovered superfood ingredient as a nutritious source of plant protein and fibre.
Reminiscent of the truffles found in the hills of Tuscany with an additional seaweed taste, sea truffle has a unique flavour profile of its own. 
The most prestigious restaurants in Iceland and Europe are drawing on this unique plant to develop new and delicious dishes.
Michelin-starred Dill restaurant in Reykjavik serves it on their scallop tartare or potatoes

Eleven Experience's Deplar Farm restaurant in Iceland infuses it in buttermilk, steeps it like tea, or sprinkles it over dishes like finishing salt.
Our batch of dried wild sea truffle was handpicked in spring, when it is most flavourful.
"The smell is so potent…if you just open the bag, it smells like a truffle farm," said Garðar Kári Garðarsson, the executive chef of Deplar Farm restaurant in Iceland to Hemispheres magazine. 
Why you'll love our Wild Sea Truffle
Grows wild in the pristine coast of Iceland

100% free from pesticides and any harmful chemical substances

No additives and colouring

Hand harvested
Key benefits
Good source of plant protein 26%
Good source of fibre 25%
Fat free
Antioxidant (click the scientific research list below to read more)
Nutritional info
Per 100g: Energy 220 kcal, Fat 0.2 g – of which saturated 0 g, Carbohydrates 16 g – of which sugar 1.6 g, Protein 26 g, Salt 6.3 g
Usage:
Rinse before use
Use as seasoning in cooking
Use as a salt substitute
Sprinkle over salads, soups, pasta, risotto, porridge
Add a spark of flavour to subtler dishes such as cauliflower and potatoes
Scientific research:
Olsen et al. Cellular Antioxidant Effect of Four Bromophenols from the Red Algae, Vertebrata lanosa. Mar Drugs 2013, 11(8): 2769–2784.
Zubia et al. Antioxidant and cytotoxic activities of some red algae (Rhodophyta) from Brittany coasts (France). Botanica Marina 2009, 52: 268–277.
Store in a cool, dry place.
Product of Iceland.